Here is a picture of the our 50's style neon sign.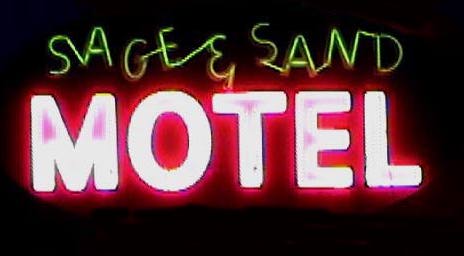 Sage and Sand Motel
311 South First Street
Saratoga, Wyoming 82331
toll free 888-860-8339
WE NOW OFFER FREE WIRELESS INTERNET SERVICE
Just bring your wireless laptop and plug it in.
For your safety and comfort, we have 24-hour video security in all the common areas, including the parking lot. Feel certain that your motorcycles, snowmobiles, autos and trucks will be as secure as our technology can make it.
THE FREE THERMAL HOTSPRINGS
Saratoga is famous for its free 24-hour thernal hot springs. A small resort town with full services has sprung up around the springs. Our motel is in walking distance of the hot springs, across the street from a 24 hour convenience store, a block from a car wash and self-service laundramat. Fine dining and night life is just two blocks away and there is a restaurant across the street.
48 hour cancellation notice is necessary or your room will be charged for one night's stay. If booked through a travel agent, the agent must cancel the booking or a fee of $25 will be assessed.
WE NOW HAVE A NEW THERAPEUTIC RADIANT INFRA RED HEATING SYSTEM !
Infrared heat feels like warm sun on your skin. It is the same rays that heat the Earth from the Sun and besides warming the objects in the room in a few minutes (including the floors) it has the beneficial aspect of enlarging the capillaries and thus increasing the blood flow in the body. A week's stay in the winter in these infrared heated rooms combined with the soaks in the hot springs will invigorate your entire system!